The Kameny Papers Project received this certificate from the Smithsonian Institution: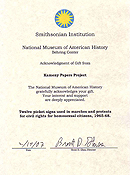 Click the above image to see a full-size pdf version of this "Acknowledgement of Gift".



Provenance:

The source of the KamenyPapers is Frank Kameny himself; these papers come from a lifetime collection, which has remained in the attic of his residence.
Dr. Kameny is the sole owner of the archive; he has personally authorized this effort to preserve and donate his papers. We are his agents to accomplish this effort, and will receive no payment or commission, beyond approved expenses.

Frank Kameny's Eulogy for Barbara Gittings
The Gay Movement is some 56 years old. Over that period of time we have had our share of movement luminaries. Almost all of them are now gone, some long ago, and a number more recently. Just a tiny few are left. We are here today to mourn the recent departure of one of the very most luminous of those luminaries, and to pay her the tribute which she deserves far more richly than can easily be articulated. I knew her well, and worked closely with her for some 45 of those 56 years. And so I speak with the greatness of sadness, in tribute to, and in the fondest of memory of a valued, long-time colleague and associate, and a truly cherished friend, with whom, I worked closely and productively for all those years.
After some consideration, I thought that a better tribute to Barbara would be to go beyond the usual conventional nice words and phrases saying how wonderful she was -- and she WAS -- and to cite and describe some of her specific activities over the years. I know best those in which I was involved with her, and so that will provide the structure for my remarks.
Our interactions and involvements over those years were so extensive that even merely to cite them all would keep us here all day and into the evening, so I will mention and describe merely a selected few to epitomize and illustrate the breadth of her dedication and to provide a framework around which to structure an indication of the scope of her involvements. We were in frequent, if irregular, communication over all those years by letter and phone, and by email after that appeared on the scene.
I must confess that I don't recall our first meeting. It must have occurred in the very early 1960s, when Barbara had been involved in the Gay Movement for some half decade, and I was just getting involved. She, in the Daughters of Bilitis where she helped form their New York Chapter, and I in the Mattachine Society of Washington. I am told that she was sicced onto me by her partner, Kay Lahusen. However it happened, we worked in close productive cooperation thereafter for almost the next fifty years. She was a force to be reckoned with.
Like all of us, of course, she had other interests in her personal life, for example her singing, which had her appearing in frequent concerts for as long as I knew her right up until near the end. But that didn't detract from her deep and total dedication to gay issues, to the gay community, and to the gay movement, of which she ultimately became, in effect, one of its Founding Mothers.
In the early 1960s we became involved together in ECHO, the East Coast Homophile Organizations, formed to bring together the hugely vast East Coast segment of the gay movement of the day -- all four organizations. She was present in NACHO, the North American Homophile Organizations, which succeeded ECHO in 1966, and she actively supported me at the 1968 NACHO conference in Chicago when I unveiled "Gay is Good".
As an insistently independent thinker who never acceded to whatever political correctness was current at any juncture, she strongly resisted the male-female separatism which prevailed in our movement for a time in the latter 1960s and 1970s, insisting then and later in using only the word "gay" alone, rather than submitting to the endlessly growing list of characterizations of our community which we hear currently, indicating thereby her clear focus upon the basic issues facing us.
A difference of opinion developed in the early 1960s, as how best to approach psychiatry and the sickness theory and its advocates, with some taking a less assertive approach more deferential to the so-called authorities and experts, and others taking a more aggressive, confrontational approach, as did I. Barbara, who agreed fully with me, utilized the Daughters' Ladder magazine, of which she was Editor, to publish a series of articles, some of which I wrote at her invitation, to set out the situation. That commenced a decade-long effort to bring psychiatry to bay. She was present in the convocation hall at the 1971 American Psychiatric Association in Washington when we invaded them and seized the microphone. She really participated in the 1972 APA convention in Dallas when she arranged for an exhibit booth entitled "Gay, Proud, and Healthy" at which was distributed a leaflet of the same title which I had written. And she arranged for the presence of Dr. John Fryer, the famous masked psychiatrist. She was present with us, by invitation, at APA headquarters in Washington, on December 15, 1973, when the APA announced their mass cure of all of us.
She joined us in our 1965 picketing demonstrations at the White House and elsewhere in Washington, and at our annual ones each July 4th at Independence Hall here in Philadelphia. There are many pictures of those and show her at her best. Some of the signs from those, including some that she carried, are now in the Smithsonian Institution's Museum of American History. She was present at the recent unveiling of the Historical Marker near Independence Hall, commemorating our picketing there.
Although she was not a librarian, she achieved something of a coup by getting herself appointed as Coordinator of the Gay Task Force of the American Library Association. She established the Gay Book Awards, and worked effectively for some 15 years to see to it that gay-friendly books are in libraries the nation over.
Highly important was her participation with me, as full, formal Co-Counsels in Defense Department security clearance cases. Although not lawyers, we appeared in several such hearings in the Pentagon, commencing in 1967. At our first one, the Department presented the late, infamous Dr. Charles Socarides as an Expert Witness. We listened in fascinated horror as he testified under direct examination. We then cross-examined him for three hours. We discredited him sufficiently so that shortly thereafter the Pentagon announced that as a result of our cross examination, Dr. Socarides had been removed from their list of Expert Witnesses. One victory among many.
During that period, Barbara became well known to staff of the Defense Department's Industrial Security Clearance Review Office. And I still have pictures of her and me taken in the courtyard in the center of the Pentagon during a recess in a hearing.
A bit later on, we worked closely together on our two separate chapters in the United Church of Christ book "The Same Sex" which was published in 1971.
In 1973, when Bruce Voeller and Jean O'Leary and others became impatient with the Gay Activists Alliance of New York, and seceded to form the National Gay Task Force, Barbara was there at the founding and served for several years on their Board of Directors. In the 1970s, she was also involved with Steve Endean in the Gay Rights National Lobby.
In 2004, a movie entitled "Gay Pioneers" was produced here in Philadelphia, with copies distributed widely over the country. At many showings, various of the pioneers in the movie were invited for Q & A sessions and the like. Barbara was apparently one of the favorite pioneers and appeared with some frequency during 2004 and 2005, at places such as Yale, Princeton, and elsewhere.
Our last encounter occurred a mere half-year ago, when the now-reformed APA presented us with a joint award for our past contributions to psychiatry -- the second such which was had both received. We worked together on our presentations, even to working out a title, and supplemented each other nicely. While I was well aware of her medical condition at the time, I had no idea that she would be departing us so soon. I still haven't come fully to terms with it. I miss her brilliant smile, so indicative of her spirit, dedication, and commitment, and our vigorous discussions of current gay- movement-and-community developments and events.
And so, with an ineffable sense of loss, I say "Goodbye Barbara. Goodbye. Goodbye. Goodbye. We are all the less for her departure. I miss her more than I can ever say, but will always remember her fondly as one of the most important players in my gay activist life and in the incredible progress of the gay community over the past half century. Goodbye Barbara. You won't be forgotten.